As education continues to change, learning must, as well.
Why?
Instructors continue to strive to help students and adult learners engage with their content in deep and meaningful ways.
This has led to the emergence of instructional strategies like blended learning to help reach these goals.
When implementing blended learning strategies, it's important to consider the different models.
In this article, we address the 5 common blended learning models with examples.
Blended Learning Definition
Blended learning is an instructional approach that combines instructor-led face-to-face classroom learning experiences and digital learning experiences.
But unlike a full eLearning model, blended learning integrates face-to-face and digital elements together in a unified strategy.
For example, the instructor can share a link to a pre-recorded video that learners can watch at home and email their review to an instructor.
The whole class can then later discuss the video in in-person.
Also sometimes called hybrid learning, blended learning models are geared toward meeting the evolving needs of diverse, adult learners.
Blended learning offers a combination of face-to-face instruction and digital learning opportunities that allow for flexibility, individualization, and opportunity for learner success.
Common Types of Blended Learning
The blended learning models we discuss below have some overlap, and their exact parameters are subject to interpretation.
Each blended learning model differs in terms of 5 pillars:
Learner's access to learning
Instructor/teacher responsibilities
Instructional emphasis
Learning personalization
Administrative requirements
But all the models have flexibility in their implementation.
Here are 5 common types of blended learning models.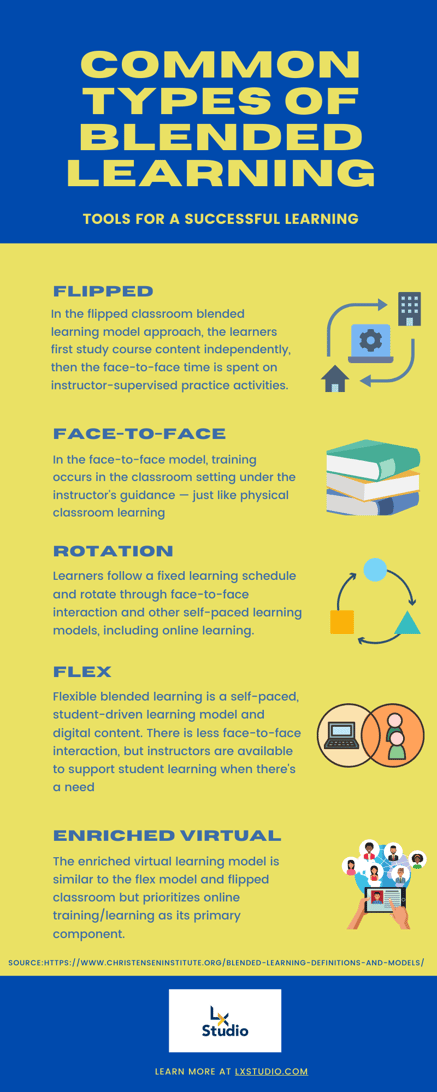 Source: https://www.christenseninstitute.org/blended-learning-definitions-and-models/
1. Flipped
The flipped blended learning model is an inverted learning framework with an "online learning first, offline application" approach.
In the flipped classroom blended learning model approach, the learners first study course content independently, then the face-to-face time is spent on instructor-supervised practice activities.
Here is what happens in the flipped classroom learning model:
Independent online learning. First, learners study new course content independently online on their own time, usually at home or before class. The instructor gives learners learning/training materials such as lecture notes, videos, etc. via a link, learning management system (LMS), email, etc.
Face-to-face-learning. The instructor devotes the face-to-face class time to active learning and applying new skills and content learned. Learners can achieve the face-to-face application component in the form of any of the following ways:

Group projects
Class discussions
Case studies
Individual project work
Delivering higher-order thinking insights
Troubleshooting specific misunderstandings
And more!
The instructor's main task is to guide the learners in their projects, correct misconceptions, answer questions, and support them in applying course concepts.
Flipped classrooms allow learners to take control of their learning as the instructor's role is only to facilitate the completion of learning projects and support their mastery.
2. Face-to-Face
The face-to-face model is the closest blended learning model to traditional classroom learning/training.
In this learning strategy, training occurs in the classroom setting under the instructor's guidance — just like physical classroom learning.
Other students who need further learning can take part in online learning to further their mastery of subject/course components.
The advantage of this model is the personalization of learning and support of struggling learners who can't cope with fast learners.
The face-to-face model also works best for diverse classrooms with students that function well at various levels of mastery and ability.
Learners who need to participate in online learning can do so as follows:
Leaders at above an mastery level may proceed with learning online more rapidly. This helps prevent boredom as learners get appropriate challenges.
Learners at below-grade mastery levels get appropriate skill remediation online to accelerate their learning. The learners can practice course content as much as they need for mastery.
If a traditional classroom experience is unavailable, learning can occur online where learners log into a Zoom, Google, Teams, or other virtual meetings session, webinar, or other conferencing tools.
Learning comes first, then assignments are given afterward.
This face-to-face learning model is easily delivered with the help of a learning management system (LMS).
3. Rotation
In the rotational learning model, learners follow a fixed learning schedule and rotate through face-to-face interaction and other self-paced learning models, including online learning.
The model involves breaking learners into groups or smaller units to perform different learning activities or tasks at different stages.
Some tasks and activities are face-to-face, and some are online.
The instructor sets fixed learning schedules for face-to-face interaction and online learning but makes them flexible for learners.
In the end, learners with different learning styles get the maximum benefit from the instruction.
The rotational learning model can be employed in various educational settings but is more popular in some environments than others.
For example, it's popular in:
Elementary classrooms where educators have used and are comfortable with physical learning stations.

Elementary classrooms, where learners can be categorized based on skill levels, such as skills in reading or math. Learners performing well in reading but not in math can have face-to-face time with the educator for math before rotating to the online math learning stations.
In the rotation model, educators can give struggling students attention and more individual assistance based on their learning needs.
Also, learners are sorted by their educator or specialized software into unique learning pathways.
Learning opportunities that students can engage in include:
Independent study
Collaborative learning or project collaborations
Small groups
Instructor-led lessons for group or individual learners
Individualized learning interventions
In a fully in-person or individual rotation model, students participate in lab/library rotation for an independent learning schedule where learners connect directly to learning materials.
4. Flex
Flexible blended learning is a self-paced, student-driven learning model and digital content.
Online learning takes the lead in transmitting learning.
There is less face-to-face interaction, but instructors are available to support student learning when there's a need.
In general, flex blended learning models have the following characteristics:
Learners customize their learning paths and the schedules they'll follow throughout the learning process.
Learning is heavily reliant on online instructional delivery.
Educators act as facilitators rather than deliverers of instruction.
The flex model was originally created to help returning high school students who had not completed their education, with learning being particularly tailored to their needs.
In this model, educators construct learning modules for students and support their learning progress, but each learner proceeds on their own through online modules.
This is why the level of independence the flex model accords learners is suited to older students.
The face-to-face components of the flex model can be used for collaboration, intervention opportunities, lab exercises, or breakout rooms.
Examples of learning environments where the flex model is used are:
Alternative school settings where the majority of the learners' population is regarded as at-risk. These students thrive well in traditional classroom settings.
Alternative schools where learners operate work-study programs, part-time schooling, or have attendance problems.
5. Enriched Virtual
The enriched virtual learning model is similar to the flex model and flipped classroom but prioritizes online training/learning as its primary component.
Learners complete most of their coursework online and attend webinars for face-to-face interaction with the instructor.
In the enriched virtual model, class attendance is ad hoc, often at the learner's discretion. This gives learners the flexibility to learn or participate in coursework at their own pace.
The enriched learning model has become more popular in recent years where companies embrace remote work and schools adopt remote learning.
But, unlike the flex model, the learners in the enriched model must participate in scheduled instructor-led classroom interaction, usually in a virtual classroom such as a webinar.
Physical classrooms are also encouraged.
Many enriched virtual learning programs started as full-time online learning and then blended programs to make learning more engaging through physical interaction.
The difference between the enriched virtual model and flipped classroom is that learners seldom meet face-to-face with the instructor in enriched virtual programs.
It also differs from fully-fledged online learning because there's a requirement for face-to-face learning sessions.
Blended Learning Examples
With blended learning becoming a standard instruction model, since the COVID-19 pandemic, organizations have embraced this modality to meet the learning and development needs. Companies such as Ticketmaster, Intel and Boeing utilized blending in unique and innovative ways:
Blended Learning Examples in Corporate Learning
Ticketmaster
Ticketmaster uses job aids, live job training, and self-paced electronic support tools to enhance classroom training and merge work and learning.
According to CLO, Ticketmaster's instructional technology manager, Chris Stewart, uses mentoring, knowledge banks, and shadowing as additional learning components.
The real-world opportunities provide practice skills with a mentor or allow employees (learners) to explore their knowledge through shadowing.
Their blended learning model can be assessed and allow learners/workers to get on-the-spot feedback.
Intel
To continue succeeding on its record of minimal product defects, Intel needed to synchronize the competencies of its thousands of manufacturing technicians across different locations.
The company implemented a performance-centric blended training solution that connects technicians across locations with minimal time investment.
The learning approach combines scenarios, digital simulations, and interactive exercises to achieve higher employee retention rates.
Workers can quickly learn new skills through self-paced learning and experiential learning.
Instructor-led and collaborative models support this.
The Boeing Company
Boeing opted for blended learning to improve its renowned capture team leader (CTL) training to reduce the classroom training time and reduce the dependency on experienced CTLs.
This blended learning curriculum allowed employees to learn from experienced CTLs to gain foundational knowledge and practice the CTL skills, then attend the live online sessions.
This preparation gave the participants base knowledge and skills they needed when attending face-to-face classroom sessions.
In classroom-based learning, participants discussed their skills and knowledge in pre-classroom online learning.
After the training, 82.5% of the participants expressed greater mastery of the course content.
Accenture
Implemented by Chief Learning Officer Don Vanthournout, CLO says the blended learning program in Accenture targets senior executives.
It includes a high-fidelity online business simulation with face-to-face role-plays of client meetings.
Accenture blended learning seeks to help senior executives gain various skills — people skills to manage people and negotiate with clients and business skills.
Blended Learning in K-12 Institutions
Within K-12 Institutions blending learning has also become a successful approach.
Some great blended learning examples in schools are:
Khan Academy
In Khan Academy, online learning tools help educate students with short lessons in the form of short instruction videos.
Learners get supplementary practice exercises for their master, and there are teaching materials for educators.
Students use self-paced learning, filling in their understanding gaps and then accelerating the learning into new content.
Learning is entirely online or web-based.
PowerSchool from Schoology
PowerSchool provides cloud-based learning software in K-12 education that connects teachers, students, administrators, and parents.
It delivers innovative, in-class education technology.
Schools and districts use it as a unified platform to manage state reporting and related compliance, talent, special education, enrollment, attendance, learning, instruction, grading, assessments, and more.
Conclusion
There's a balance between face-to-face classroom training and eLearning in blended learning.
When using blended learning models, the aim is to combine the strengths of both online and traditional classroom learning to give the learners a more engaging learning experience.
Whatever blended learning model you choose, it's a learner-centric approach to learning, focusing on optimizing digital technologies to support training and instruction.