Have you ever led a training session and weren't sure whether your participants actually learned something when it was over?
Maybe they left your session telling their boss they learned a bunch of valuable information, when all they really did was check email.
Still, they may have received a certificate of attendance or a cool selfie.
But just because a person attended a training session doesn't mean that person learned anything. those don't demonstrate learning.
This is why the concept of a micro-credential comes in.
What Are Micro-Credentials?
Micro-credentials provide learners a new way to demonstrate a more complete profile of their competencies than relying only on a resume, transcript, or degree.
Micro-credentials do not replace degrees or certificates, but instead can enhance your already existing education programming for your members or spark creativity in developing new offerings.
Since micro-credentials are relatively new in practice, there are many descriptions and terms to describe them.
For our purpose, micro-credentials are the purposeful design and packaging of competencies, supporting curriculum, and evidence of learning that have value in a professional marketplace.
Achievement of a micro-credential is typically communicated through a digital badge.
Digital badges are issued upon the completion of established requirements using a set of open standards and metadata.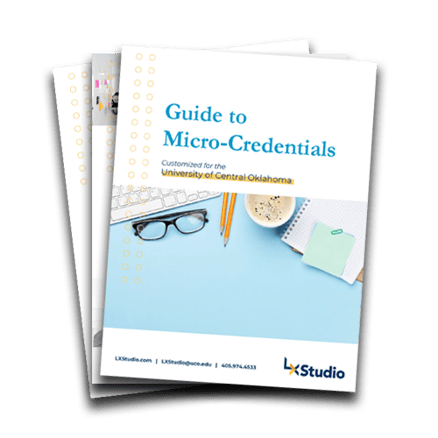 Why Are Micro-Credentials Important?
Three key areas that can help distinguish your micro-credentials from just the average learning program include:
designing your offering within a framework of knowledge, skills, and abilities that have value in the marketplace for your members;
verifying the evidence in learning before awarding the badge, and;
communicating the completion of the specific offering by awarding a digital badge that can be displayed by your members in a number of flexible ways.
The value of designing and packaging your learning program as a micro-credential shines through in the following ways rather than just "having a body in a seat" during your trainings.
Micro-credentials have major value in the marketplace because they are designed specifically around a set of competencies and tied to your members' needs for professional growth.
Backed by the validity of learning through your evidence assessment and verified in a timely matter, the possibilities for your micro-credential offerings are endless.
How A Micro-Credential Could Be Used At Your Organization
Still not convinced how micro-credentials can fit within your organization?
Let's take a look at an example to spark your ideas.
Our team recently designed a Coaching and Mentoring micro-credential which allowed our client to creatively and strategically develop an offering tailored to their specific audience rather than a "one size fits all" approach.
This micro-credential gives professionals a creative way to demonstrate knowledge of the basic helping skills and theories of coaching and mentoring adults in corporate, nonprofit and educational settings.
Topics covered include:
Listening skills and feedback
Relationship building
Career and self-assessment processes
Conflict management and resolution
Ethical and legal issues connected to the helping relationship
Self-care when engaged in helping relationships
Types of coaching – leadership, life planning, etc.
Once a participant completes the micro-credential offering, their skills and knowledge are then verified through a set of defined evidence components such as a skill demonstration or portfolio.
Micro-credentials are the way of the future to help industry professionals showcase their special skillsets and knowledge on specific topics through dynamic course content delivery and verified evidence of learning.
If you'd like to learn more, please download our complementary Guide To Micro-Credentials.